Saturday, March 29th, 2008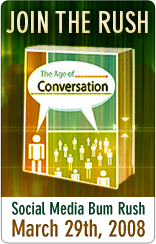 The Age of Conversation re-launches today on Amazon.com with the Age of Conversation Bum Rush. If you haven't bought or borrowed a copy yet and are wondering what all the tweets, twits and talk is about, let me fill in the blanks:
The Age of Conversation is an anthology of the bite-size nuggets of new media insights from 100+ marketing bloggers. If you've already got a copy, you can find me in chapter #11.
All the profits go to Variety, The Children's Charity. If you buy a copy, you won't make my wallet any heavier but you'll help some kids that really need it. Chris Wilson is spearheading the bum rush, and they've gotten it up as high as #53 at Amazon's business section. It looks like it has slid a bit to #57. If you own a copy already, I'm sure adding your review over there would help people that are pondering whether to buy it or not.
It's been interesting to read some of the comments over at the thread on Digg. As marketing dynamics transform from a world one-to-many messages to many-to-many, how is spam going to be socially defined?